MUNICIPALITIES IN PORDENONE PROVINCE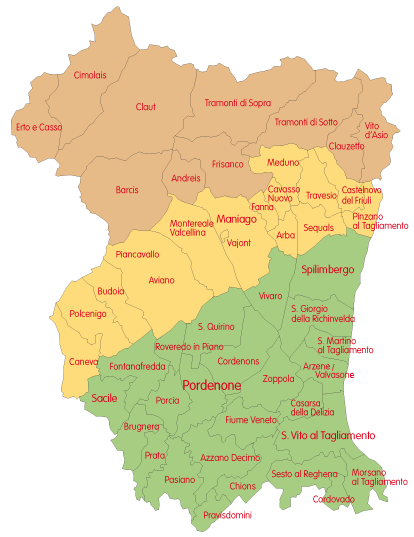 Discover the towns in our area by clicking on the map or by selecting them from the dropdown menu.
Pordenone is the most western province of the four that make up the Autonomous Region of Friuli Venezia Giulia. The other three provinces are: Trieste (Regional capital), Gorizia and Udine.
The territory, in orographic terms, is clearly subdivided into three strips: to the north a broad mountainous area, in the centre a hilly part and finally in the south a vast area of plain.
Pordenone is a relatively young province, having been instituted in 1968. The overall land area is 2,273 sq.m, equal to 29% of the Regional area. The provincial territory is divided up between 51 municipalities.
It is possible to reach all cities in the province of Pordenone through efficient road and motorway connections, allowing you to move easily within the territory. You can also use rail, air and sea transport.
Land routes:
A4 motorway Venice - Trieste, exit Portogruaro: A28 motorway to Pordenone. Exit Pordenone Centre,www.autostrade.it, www.autovie.it
Rail connections:
Railway line Venice-Udine-Vienna, www.ferroviedellostato.it
Airports:
International Airport Ronchi dei Legionari www.aeroporto.fvg.it, Intercontinental Airport Marco Polo in Venice www.veniceairport.it, International Airport A. Canova in Treviso www.trevisoairport.com
Sea connections: Port of Trieste www.porto.trieste.it, active both for maritime intercontinental long haul connections and intra-Mediterranean short and medium-haul routes.