FOOD & WINE / Sweets and Fruit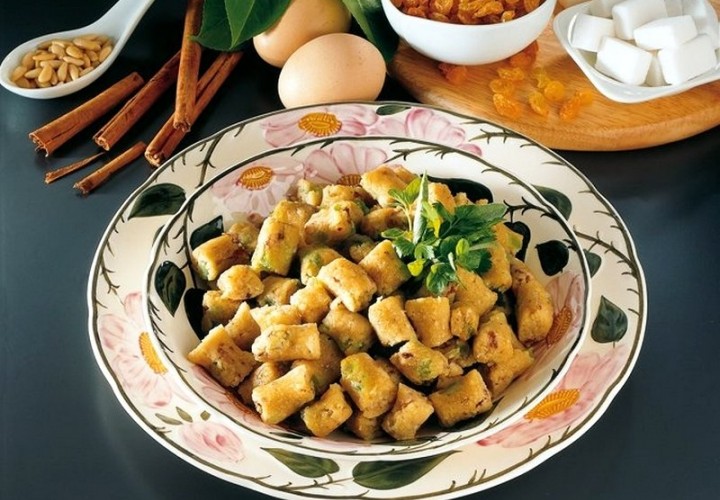 Ingredients:
stale bread
200 g of sugar
100 g of butter
Aromatic herbs (marjoram, thyme, pennyroyal)
3 eggs (3 yolks and 1 white)
50 g of raisins (left to soak in a glass of liqueur or dried grape wine)
50 g of candied citron
50 g of pine-kernals
Cinnamon
Salt
Broth
Pistùm or pistùn, used at Easter and weddings, were large sweet dumplings, usually made with candied fruit or dried fruit and cooked in broth.
Place in a bowl the raisins, the citron cut into small pieces, the chopped pine-kernals, the sugar, a pinch of salt and a teaspoonful of cinnamon. Separately soften the aromatic herbs in the butter. Then remove the herbs and pour the flavoured butter into the bowl together with half a glass of broth.
Blend with a wooden spoon, complete with the eggs and breadcrumbs, until obtaining a well-blended mixture.
Form the dumplings giving them a long shape and tip them into the boiling broth. They are cooked when they become floating.
Then they are picked up with a perforated ladle, drained and served hot (without broth), with a sprinkling of icing sugar.