Recommended during the festival "Aria di Festa a San Daniele", taking place at the end of June.
CASTLES, POETS AND… PROSCIUTTO DI SAN DANIELE!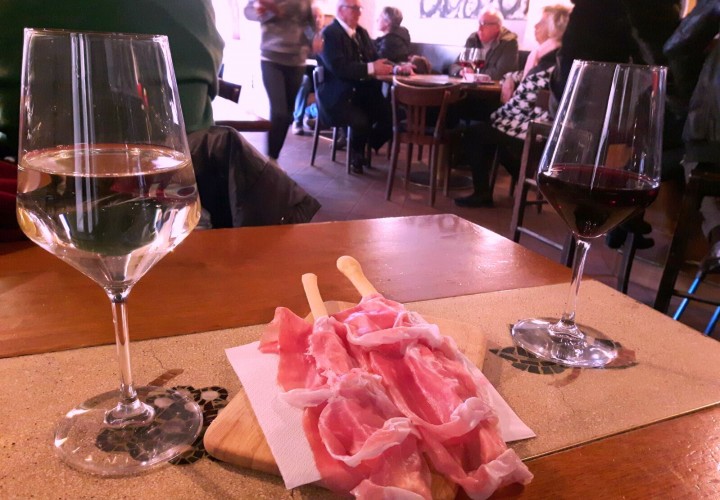 An itinerary combining food&wine and culture, through vineyards and museums, along the famous "castles' road", and with the magical words left by Pasolini, (a Friulian writer that composed his first lines in this area) in the background.
DAY 1
Let's begin with this friulian experience with Maniago, an historical town located north of Pordenone, known for a well-established handicraft tradition: here it is possible to visit the Cutlery Museum, that aims at representing one of the most important local community symbols, the cutlery production. The museum starts from the origin of handcraft production to modern iron-cutting techniques. Furthermore, it is possible to admire an important collection of top-notch, high-quality products created in Maniago. Afterwards, wine tasting in a renowned wine estate, where you can taste fine local wine specialties. Lunch at a local restaurant and in the afternoon visit to Spilimbergo, headquarter of a famous Mosaic School attended by international students year after year. Furthermore, do not miss its old town, where the Castle and the Cathedral are definitely worth a visit.  Dinner and overnight.
DAY 2
The day opens with the visit of Udine, a city whose main square has been defined as the "most beautiful Venetian square" on the mainland, and where the great painter Tiepolo has left many unforgettable masterpieces. The old town is a real jewel, rich in squares and historical palaces, dominated by its wonderful Castle. Later on, the famous "Castles'road" will make you admire hills, fortresses and end in San Daniele, the hometown of raw ham. Lunch in a local ham factory and visit to this beautiful little town. Every last weekend of June, San Daniele becomes a real paradise for food lovers, with a real ham festival, called "Aria di Festa", that completely transforms the little town into an open-air stage! Ham tastings, typical dishes, concerts, events: this is the perfect period to visit it! Dinne and overnight.
DAY 3
End your tour with the beauty of Pasolini and David Maria Turoldo verses. In the morning you will visit Casarsa, where Pasolini spent his childhood and composed his first verses in Friulian, his beloved mothertongue. Afterwards you will visit Sedegliano, where you will have the chance of getting to know better David Maria Turold, a charismatic 19th century writer. You can visit the house where he was born, which is a perfectly preserved example of Friulian rural architecture. Lunch and visit to Villa Manin in the afternoon: it is a marvelous Venetian Villa built by an important Venetian family in the 18th century. Do you know who slept here? Napoleon Bonaparte.
INFO&BOOKINGS:
Consorzio Pordenone Turismo
Piazzale dei Mutilati 4
33170  Pordenone
Tel. +39 0434 549427/422
Fax +39 0434 541865
Organizzazione tecnica Delizia Viaggi  
Prenota il tuo soggiorno
Clicca su Prenota per inviare una mail e prenotare il tuo soggiorno.
Plan your trip
Sign in and access your personal area: "My Pordenone With Love".
You will be able to organise all activities in a convenient calendar, locate on a map the places you wish to visit, save itineraries and events, and have the full program of your holiday at your fingertips.
You'll also receive a newsletter with all the news from our Province.
Login
Sign in