Recommended in spring/autumn
WESTERN FRIULI KAYAKING AND VESPA RIDING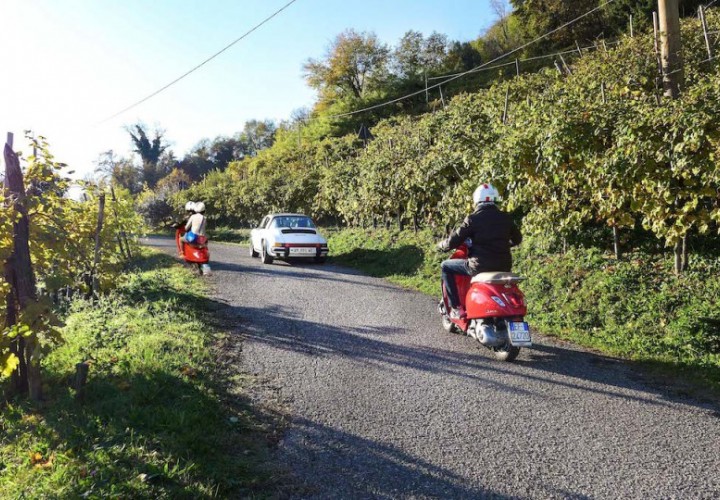 Discover a wonderful Italian region in an unconventional way! On a canoe, or riding a Vespa (pure vintage Italian style!)…. Indulge in an extraordinary weekend!   
DAY 1
Arrival and meeting with the tour guide for the departure for Pordenone,a charming town with a long archway, once called Contrada Maggiore, today Corso vittorio Emanuele II. The other main arterial road of the town is Corso Garibaldi. Walking through the historic city center we will see Piazza della Motta, the Duomo and its belltower, Palazzo Municipale, the Museum of Art Palazzo Ricchieri and several beautiful  palaces, many decorated with frescoes. Then, experience a stop at the cioccolateria Peratoner, to taste the chocolate pralines made here by Giuseppe Faggiotto.  His passion for chocolate started in 1974 and from then his growing enthusiasm led him to discover the best chocolate and learn the secrets from the best Maitre Chocolatiers. Dinner and overnight in a hotel.
DAY 2
Breakfast at the hotel and Vespa delivery for the departure of the so-called "Monster of the Lake" tour.  Riding by the Gorgazzo water spring (nobody knows how deep it is!), Piancavallo and the Lake of Barcis (known for its emerald green water), the tour will arrive to the Vaiont dam, tragically famous for a disaster occurred in 1963, where a landslide killed more than 1000 people. There, amongst the Dolomiti mountains, everything is still as it was in 1963 and it is possible to visit the ghostly Erto and Casso villages. Afterwards we will reach the magical turquoise of the waters of the Lake of Barcis, where we can relax for a while. Lunch in a typical local restaurant and return of the Vespas in the evening. Dinner and overnight.
DAY 3
Breakfast at the hotel and departure for Sacile. Meeting with the federal canoe instructor to begin the 1Km tour through the canals in Sacile. The tour is about 40 min. long, all the necessary equipment will be provided (canoe, paddle and life vest).To follow the river course means to move through the territory and thus relive the antique  connection route to Venice. Lunch in a typical local restaurant and escorted visit of Sacile. End of the tour
5.INFO&BOOKINGS:
Consorzio Pordenone Turismo
Piazzale dei Mutilati 4
33170 Pordenone 
Tel. +39 0434 549427/422
Fax +39 0434 541865
Organizzazione tecnica Livenza Viaggi
Prenota il tuo soggiorno
Clicca su Prenota per inviare una mail e prenotare il tuo soggiorno.
Plan your trip
Sign in and access your personal area: "My Pordenone With Love".
You will be able to organise all activities in a convenient calendar, locate on a map the places you wish to visit, save itineraries and events, and have the full program of your holiday at your fingertips.
You'll also receive a newsletter with all the news from our Province.
Login
Sign in