BETWEEN MOUNTAINS AND "BORGHI" IN FRIULI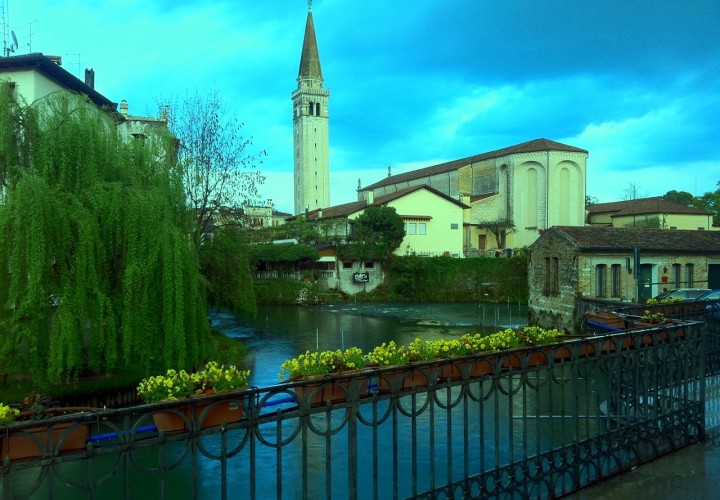 Have you ever tried the "pitina"? And the delicious Ribolla wine? If the answer is "no", we have the right solution! An itinerary where taste rules, combining typical products with the most beautiful Borghi in Italy.
DAY 1
Start the weekend by visiting Spilimbergo, one the most renowned mosaic areas in the world, home of the famous Friuli mosaic school. Spilimbergo, that was awarded in 2013, with other 20 Italian towns, as an "Italian  jewel", owns  a wonderful cathedral  with fourteenth century frescoes, a castle with a "painted palace" perfectly preserved, and an old town full of paved alleys and front arcades. Opportunity to visit the Friuli Mosaic School, a unique reality in the world, where students from around the world come to learn the noble art of the mosaic. In the afternoon, transfer to Tramonti di Sopra for a tasting of the famous "pitina", one of the best known Friulian Slow Food product.  Dinner with an unspoilt and wild nature as background.
DAY 2
Transfer to Sacile, a wonderful old town full of monuments of remarkable artistic interest and beautiful historical  and natural views created by the Livenza river.  As a matter of fact, Sacile is called "Il giardino della Serenissima"- the garden of Venice. Continue towards Polcenigo, one of the Most Beautiful Villages in Italy, developed along  Gorgazzo creek, and dominated by the ancient ruins of a castle. The village offers quaint views, with mills and noble palaces. Then transfer to Valvasone, another wonderful village, and a walk around the area  with a visit of the beautiful castle and its pretty private theatre. Tasting in a local wine estate to taste fine Friulians wine: are you ready to say goodbye to Friuli? I'm sure that at the end of the tasting you will be very… happy and cheerful.       
INFO&BOOKINGS
Consorzio Pordenone Turismo
Piazzale dei Mutilati 4
33170 Pordenone
Tel. +39 0434 549427/422
Fax +39 0434 541865
Organizzazione tecnica Flumen Viaggi   
Prenota il tuo soggiorno
Clicca su Prenota per inviare una mail e prenotare il tuo soggiorno.
Plan your trip
Sign in and access your personal area: "My Pordenone With Love".
You will be able to organise all activities in a convenient calendar, locate on a map the places you wish to visit, save itineraries and events, and have the full program of your holiday at your fingertips.
You'll also receive a newsletter with all the news from our Province.
Login
Sign in