EXPLORING PORDENONE AND SURROUNDINGS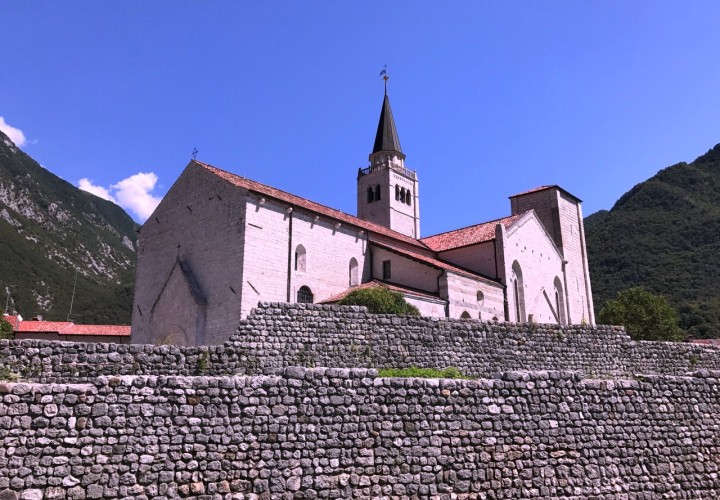 Between Friuli and Veneto, Roman towns and fortified areas, medieval echoes and elegant Renaissance palaces… 5 days discovering Pordenone and surroundings!
DAY 1
Leave for Portogruaro, a pretty town suspended between Middle-Age and Renaissance, located on the river Lemene, that offers beautiful and unexpected views at every corner. The old town has a very "refined" atmosphere: its Venetian-style palaces, with bifores and trifores full of flowers, present frescoes, porches, arches and elegant columns. Afterwards visit Concordia Sagittaria, an important Roman colony founded in 42 b.C, where arrows were produced. It still preserves some walls parts and some Roman ruins: the main Roman square, the theatre, the thermal baths, and parts of a bridge. In the evening, relax and enjoy a typical dinner.
DAY 2
Breakfast and visit of Pordenone, with the main road Corso Vittorio Emanuele, that presents elegant and wide porticoes on both sides and represents the old town heart. A walk around Pordenone will make you admire palaces in different styles, from Gothic to Renaissance, such as Palazzo Gregoris and the medieval Casa Vianello (or Casa dei Capitani), whose façade is decorated with polychrome frescoes. Pordenone is well renowned as the painted city because of the beautiful frescoed palaces you can see all around. In the afternoon enjoy a relaxing walk in Caorle, a pretty town located on the Adriatic Sea. The old town seems like a little Venice, with cobbled alleys, little squares and bright-colors palaces. The Duomo, the bell-tower and the Madonna dell'Angelo sanctuary, that overlooks the sea, are the main highlights you can not miss in Caorle. Dinner and overnight.
DAY 3
Today we included a real "jewel" in the program: it's Venzone, defined as "the most Beautiful of all the most Beautiful villages in Italy" of 2017. In 1965 Venzone, with its Loggia, its Cathedral, its Clock Tower and the mysterious yet fascinating "mummies" , has been defined as a worthy national monument . Nevertheless, fate condemned Venzone to be the epicentre of a terrible earthquake in 1976, that completely destroyed it. Nowadays, Venzone is totally reborn thanks to an innovative cultural/technical process, where every stone and brick has been repositioned in the same pre-earthquake location. Later on, visit to Gemona, another symbol of renewal after the 1976 earthquake, that caused more than 1000 victims. Gemona has been rebuilt mixing new languages and old architectural traditions, and its old town is simply lovely. You will end your Friulian days with the tasty visit of San Daniele, located on a hill, internationally renowned for the ham production: of course, you MUST stop in a local ham factory and have a delicious tasting! San Daniele, called "the Siena of Friuli", keeps on of the most prestigious libraries of Italy: there, you can still read hand-written verses by Petrarca  or other Middle-Age authors
DAY 4
Today we are going to visit Spilimbergo, an ancient Borgo, the land of mosaics, headquarter of a world- renowned Mosaic School attended by students from all over the world. Do not miss the Duomo with frescoes from the 14th century, the Castle with its famous painted palaces, the Palazzo di Sopra, the Giuseppe and Pantaleone churches, the old town with beautiful alleys and porticoes. Afterwards, wine tasting in a local winery to taste fine friulian wines. In the afternoon have a stroll in Valvasone, one of the Most Beautiful Borghi in Italy dominated by the huge Castle.
DAY 5
In the morning visit of Palmanova, a unique town with a 9-pointed-star shape, surrounded by walls and moats. 6 main streets converge towards the hexagonal main square: the latter is so perfect that it is easy to be confused when walking around, since the panorama seems exactly the same from every corner. Transfer to Clauiano, a small village first mentioned in official documents in 1031. Destroyed by Saracens, it was rebuilt to resist to foreign invasion, and it is now defined as "the stone and rock village. Last but not least, you will visit Strassoldo, a small medieval village with two "castles" or "borghi". An ancient document testifies that, already in 565, a small village with two towers existed in this area, built from Aquileia's ruins. These two towers expanded later and became two different parts of the same village.
INFO&BOOKINGS:
Consorzio Pordenone Turismo
Piazzale dei Mutilati 4
33170 Pordenone
Tel. +39 0434 549427/422
Fax +39 0434 541865
Organizzazione tecnica Flumen Viaggi  
Prenota il tuo soggiorno
Clicca su Prenota per inviare una mail e prenotare il tuo soggiorno.
Plan your trip
Sign in and access your personal area: "My Pordenone With Love".
You will be able to organise all activities in a convenient calendar, locate on a map the places you wish to visit, save itineraries and events, and have the full program of your holiday at your fingertips.
You'll also receive a newsletter with all the news from our Province.
Login
Sign in