Recommended in spring/autumn/summer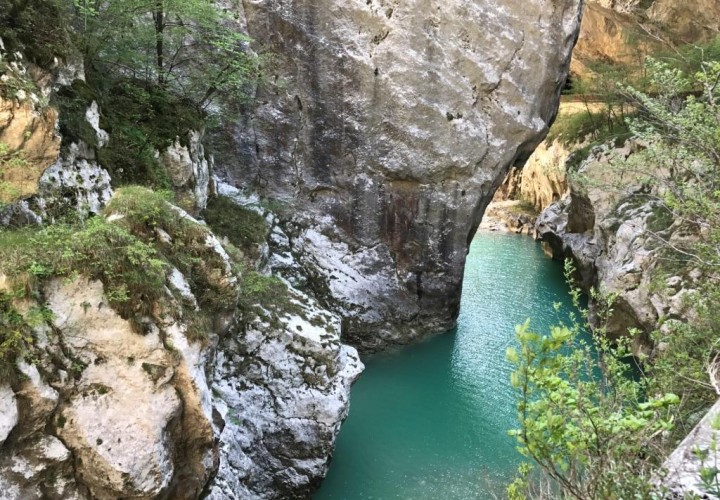 The most savage and unspoilt part of Friuli, with natural parks, fairytale woods, lakes and emerald caves. A relaxing week just for you!
DAY 1
We start this interesting nature journey with a guided visit in the green San Floriano Park, where you can walk around orchards, meadows, woods, and admire several animals. Then you will visit Polcenigo, a village on the river Gorgazzo that is surrounded by hills – on top of one hill you will spot Polcenigo castle. The village offers evocative sights, with mills, cobbled alleys, little churches and elegant palaces. In the evening transfer to the hotel, check-in, dinner and overnight.
DAY 2
In the morning we will leave for the mountains, reaching the Colvera valley, where we will meet our nature guide. The morning will be dedicated to the Landris trail, full of ancient tracks and walking paths that once were the only way to leave the valley. The fairytale landscapes presents hills, woods and a small creek. Let's stay in the fairytale while visiting Poffabro, one of the most beautiful villages in Italy, that presents some original architectures of stone and wood, and some ancient houses dating back to the 16th and 17th century. Dinner and overnight.
DAY 3
This morning, the real protagonist of the visit is Barcis, a village located in the heart of Valcellina, where you will meet your guide. In the morning you are going to visit the "Dint track", in the Forra del Cellina Natural Reserve, and you will discover one of the most beautiful natural canyons in Italy. This track will enable you to learn about some natural highlights in terms of flora, fauna and geology. Then, have a walk in Erto and Casso, 2 mountain villages that still present a rural aspect, linked to traditions, habits, agriculture, cattle breeding. These two villages differ in local dialects and traditions but were reunited by fate: in 1963, a terrible landslide falling in a dam caused several victims in the area. You will have the unique chance of visiting the catastrophe scenarios, discovering how nature fought against damages caused by human beings.
DAY 4
Breakfast and transfer to Clauzetto, where you can visit the Pradis Caves, a complex of several Karstic holes. While descending in the depth of the Caves, you will have the chance of admiring a unique envinronment, rich in waterfalls, natural arches, holes. You can even visit a local museum that keeps archeological and paleontological finds. Later on, transfer to San Daniele with tasting of the famous ham. This town is considered one of the artistic gems of Friuli Venezia Giulia, internationally renowned for its excellent ham production, that has long origins and benefits from a unique microclimate. Then, you will visit Venzone, a fortified town that presents several medieval traits, entirely rebuilt after the 1976 earthquake. Transfer to Arta Terme, check-in and overnight.
DAY 5
Breakfast and visit of Pesariis, where you will find a wonderful clocks' museum that shows handmade wonderful products, both ancient and contemporary (the 20th century area is the most important, and it shows clocks without hands, produced in this area for the first time). In the afternoon have a stroll in Sauris, a mountain village surrounding by huts and pastures, located from 1000 to 1400 meters above sea level, and thus being the highest of the whole region. A legend says that Sauris was founded by Austrian people that brought here their habits and traditions. The distinctive trait of Sauris landscape is the architecture, that perfectly mirrors the rural life and traditions. Dinner and overnight.
DAY  6 
End your nature experience with Sutrio, a mountain village with typical houses where craftmen still produce handmade wood products. It embodies the typical "Carnia" village, with a perfectly preserved architecture, stone houses, cobbled alleys. Visit and tasting in a local cheese factory, and in the afternoon, have a stroll around mount Zoncolan, where you will enjoy breathtaking views.
INFO&BOOKINGS:
Consorzio Pordenone Turismo
Piazzale dei Mutilati 4
33170 Pordenone 
Tel. +39 0434 549427/422
Fax +39 0434 541865
Organizzazione tecnica Flumen Viaggi
Prenota il tuo soggiorno
Clicca su Prenota per inviare una mail e prenotare il tuo soggiorno.
Plan your trip
Sign in and access your personal area: "My Pordenone With Love".
You will be able to organise all activities in a convenient calendar, locate on a map the places you wish to visit, save itineraries and events, and have the full program of your holiday at your fingertips.
You'll also receive a newsletter with all the news from our Province.
Login
Sign in