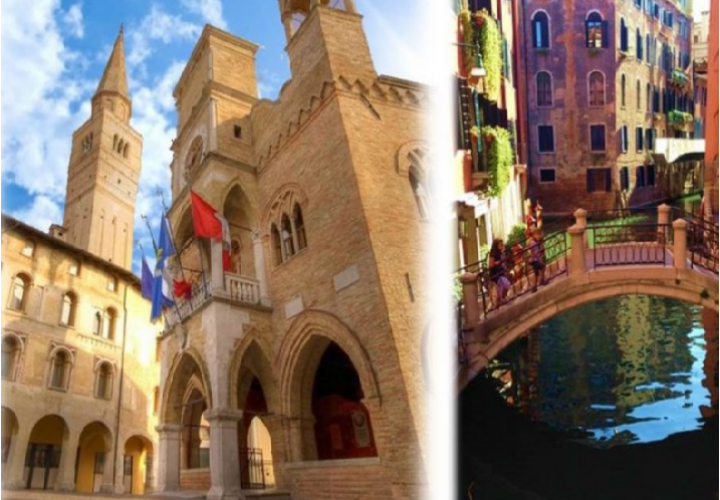 VALID UNTIL DECEMBER 31ST, 2017
Would you like to visit the wonderful and romantic city of Venice, while being on a budget and travelling with all comforts? With our offer, you can! You will stay in Pordenone and reach Venice directly by train, without any parking issues, and without spending a fortune! You can organize your Venetian excursion on you own, but you can visit Pordenone as well, to discover its quaint streets, painted palaces and delicious restaurants. You will surely love our Province!
Day 1 (Friday)
Arrival and check-in in Pordenone. Typical dinner with local specialties: taste regional dishes and mouth-watering recipes!
Day 2 (Saturday)
The whole day will be dedicated to the discovery of Venice: you will receive  your first class train tickets  directly at your hotel at the moment of check-in, with a complete timetable of all the trains leaving  for Venice and coming back to Pordenone. You will then spare time and money not parking your car in Venice surroundings (a very long, expensive and tiring process).
The pleasant  train journey lasts 1 hour and 10 minutes approximately, and you will arrive at Venice Santa Lucia train station, right in the very heart of the most romantic  city of the world! You will have the whole day at your disposal and  we can help you plan your day in Venice.
Day 3 (Sunday)
Breakfast and check-out.
The morning will be entirely dedicated to the visit of Pordenone old town: you can choose whether to discover it on your own or to let a professional guide lead you through an interesting tour around the old town. You will discover a city whose noble roots date back to the Middle Ages… observe its elegant palaces and learn about the families who owned them in ancient times, drink a coffee in a historical café, take a picture of its hidden and beautiful corners…briefly, enjoy Pordenone!
Included:
2 overnight stays in a 3*** Hotel
1 typical dinner at a local restaurant  (3 courses, ¼ wine, ½ water included)
1 round train ticket Pordenone-Venice
Rates (3 days/2 nights)
Hotel 3***: from  € 140,00/person/in double room
Hotel 4****: on demand
Technical organization by Delizia Viaggi
Consorzio Pordenone Turismo
Via dei Mutilati 4
33170 Pordenone
Prenota il tuo soggiorno
Clicca su Prenota per inviare una mail e prenotare il tuo soggiorno.
Plan your trip
Sign in and access your personal area: "My Pordenone With Love".
You will be able to organise all activities in a convenient calendar, locate on a map the places you wish to visit, save itineraries and events, and have the full program of your holiday at your fingertips.
You'll also receive a newsletter with all the news from our Province.
Login
Sign in