Recommended in spring/autumn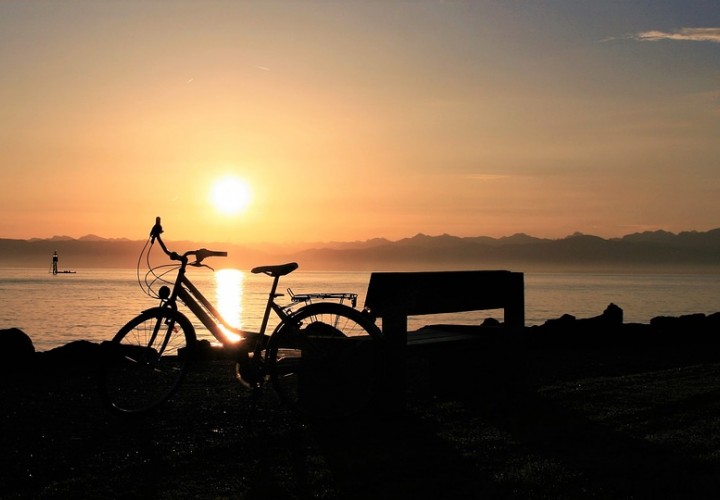 Riding around Friuli! Prosecco hills, Italian typical Borghi, unique mosaic schools…and last but not least, the golden Grado beaches! 6 days on a bike, for an unforgettable itinerary!  
DAY 1
Meeting with your assistant for the bike delivery based on your requirements. Briefing and explanation of the route, which will go from Pordenone to Erto, where you can visit a notorious dam, through Caneva, Vittorio Veneto and Fadalto, for a distance of about 65 Km. Packet lunch at arrival and meeting with the driver for the transfer to the hotel in Polcenigo.  Dinner at the hotel and overnight.
DAY 2
Departure after breakfast for a 70 Km (approximately) tour that will take you to Conegliano and up to the beautiful Prosecco hills.  The itinerary will go through Caneva, Cordignano, Conegliano and Refrontolo, the heart of the Prosecco zone. A break for lunch and then a guided tour of a very well known winery will follow: enjoy a delicious wine tasting and then return to your hotel to relax. Dinner and overnight.
DAY 3
Breakfast at the hotel and after a few hours of relax departure by bike for Pordenone, riding through Aviano and San Quirino.  The itinerary is about 26 Km long. At the arrival, the driver will be waiting at the hotel for the accommodation. Free afternoon for a walk around Pordenone and visit its historical city center. Dinner in a typical local restaurant and overnight.
DAY 4
Breakfast at the hotel and departure for Fagagna passing through Aviano and Maniago, a small town north from Pordenone, well known for its knife production and steel craftwork. It will be possible to visit the Museo dell'Arte Fabbrile  ( Museum of Blacksmith's Art and Cutlery) that gathers information about the steel manufacture of the factories in the area. Free lunch. The tour will then continue towards Spilimbergo, a beautiful small town with an evocative historical center and castle. Prior to reservation, it will be possible to visit the historical, worldwide famous  "Scuola Mosaicisti del Friuli" (Friuli Mosaic School) where the best mosaic artists are trained and will amaze you with their works. The itinerary is about 60 Km long; arrival at a splendid resort surrounded by nature, dinner and overnight.
DAY 5
Breakfast at the hotel and departure for Grado, starting from Udine and following  the "Alpeadria" cycling route, which connects Tarvisio to Grado to the Laguna Friulana (Friuli Lagoon). The itinerary is about 65 Km long. Hotel accommodation in Grado, where the driver will deliver your luggage; dinner at the hotel and overnight.
DAY 6
Breakfast at the hotel and free day to enjoy the beach or a bike ride to the beautiful Aquileia, an antique port of the Roman Empire, following the bike tracks the connect Tarvisio to Grado; the itinerary is about 15 Km per route. Return to Grado and departure.
INFO&BOOKINGS:
Consorzio Pordenone Turismo
Piazzale dei Mutilati 4
33170 Pordenone 
Tel. +39 0434 549427/422
Fax +39 0434 541865
Organizzazione tecnica Livenza Viaggi
Prenota il tuo soggiorno
Clicca su Prenota per inviare una mail e prenotare il tuo soggiorno.
Plan your trip
Sign in and access your personal area: "My Pordenone With Love".
You will be able to organise all activities in a convenient calendar, locate on a map the places you wish to visit, save itineraries and events, and have the full program of your holiday at your fingertips.
You'll also receive a newsletter with all the news from our Province.
Login
Sign in