Blacksmith's Art and Cutlers' Museum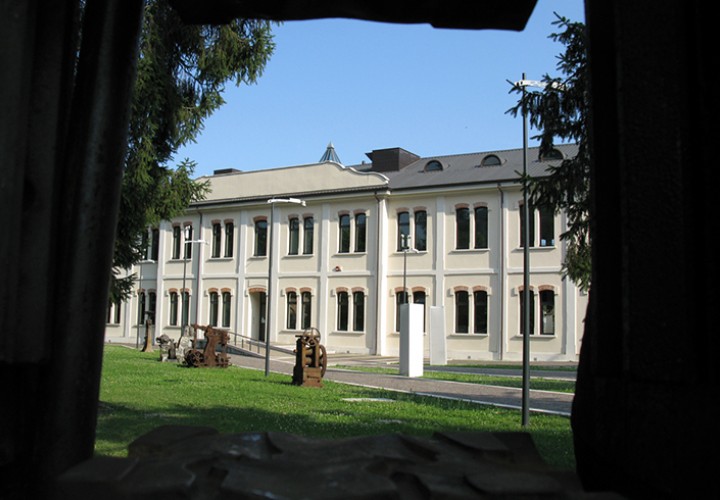 The CORICAMAhas been part of the history, of the memory and of the imaginations of the people of Maniago for one century, but maybe not everyone knows that the biggest factory in the city is now a Museum.
The Museum of blacksmith's art and cutlery is born in continuity with the project that let it born thanks to the local enterprise in the old spinning mill and tends to deepen the sense of collective identity that makes the tradition and the story of Maniago knife makers one of the most important symbols of the local community.
In the CORICAMA building take place workshops, conventions, temporary exhibitions and meetings. During the school period, when requested, many educational workshops for children in different ages ca be realized.
The renewed Museum has a new internal organization:
The Hall: The museum and the identity of Maniago at the ground floor and first floor shows the relationship to the territory, the local identity and the symbolic representation of knives and blades in the local history and in the universal mythology.
Section 1 The smithy of the wizard: crafts and techniques of the knife makers and section 2 From Obsidian to metallic oxide: materials, energy, wisdom and experiences offer a rich journey into the world of the blacksmith's art from the primordial times of the metal working until today.
Section 3 From the function to the form: evolutions and transformations of the knifes makers production of Maniago, the visitor can see a new section, completely dedicated to the production and marketing of knives, scissors and various cutting instruments produced in Maniago, continuously updated with new products that are created in the factories, according to the development of the researches and the requests of the market.
In addition to the Museum, in the same building the visitor can see two other section:
Section 4: Temporary exhibitions;
Section 5: Sections of the Iron and Wood Working of the Provincial Museum of Country Life "Diogene Penzi".
The Museum of blacksmith's art and cutlery is a cell of the Ecomuseum Lis Aganis. Beside hosting and telling the historic and cultural heritage of the city of Maniago, it works in cooperation with the other museums of the territory to realize various activities and cultural initiatives.
 
Timetable: every day 9.30 -12.30 e 15.30 -18.30, closed on tuesday and wednesday afternoon
Entry:
-         ticket € 4
-         free for schools, children under 12, FVG card possessors, disabled
-         there is no additional fee for guided visits
-         we suggest booking in advance for group visits