Recommended during the festival "Castelli Aperti", taking place twice a year (April and October)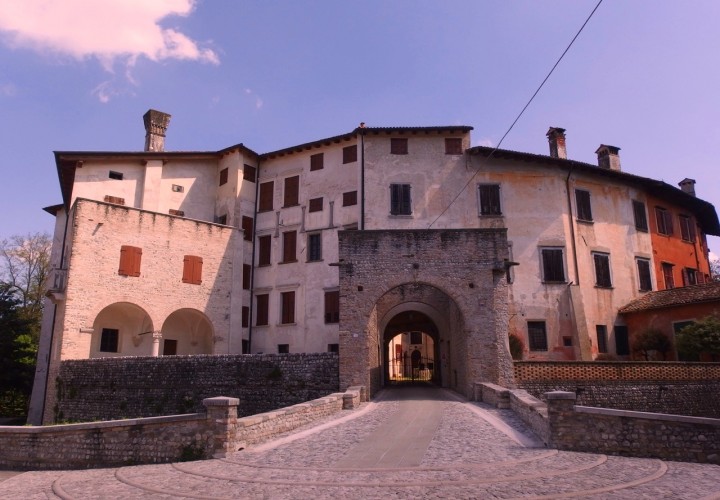 Noble residences, fortified castles telling about ancient legends and battles, castles built by the Austrian Empire… are you ready for this journey back in time?
DAY  1
This tour is suggested for two specific weekends of the year (one in spring and one in autumn), when the best Friulian castles, usually close, open their doors for visitors. Today we start our journey with Cordovado Castle, located in one of the most beautiful Villages in Italy: it is an elegant residence still inhabited by its aristocratic owners, surrounded by a marvelous English garden and by a rose garden that in May attracts people from all Italy. The castle will open your doors enabling you to discover its history thanks to a guided tour. Lunch in a local dinner and in the afternoon visit of San Vito al Tagliamento, a lively town full of artistic jewels: the Theatre, several elegant palaces, the Santa Maria dei Battuti Church. Dinner and overnight at the hotel .
DAY 2
In the morning you are going to visit 3 castles, open to visitors for this special occasion: Cassacco Castle, formed by two towers and by a central imposing building. A legend says that this castle and its "neighbour", the Tricesimo castle, are connected through an underground tunnel. Furthermore, visit to the Arcano Castle that still nowadays brings us back in the Middle Ages, with ramparts, a double tower and several elegant double-arched windows. Lunch and in the afternoon visit to Valvasone Castle, where you can assist to a medieval dance show and visit one of the smallest theatres in Italy.
DAY 3
Today it's time to breathe a Mittle-European atmosphere! The day will include Duino and Miramare castles: the former had R.M.Rilke, the famous poet, Elizabeth (Sissi) from Austria and the Archduke Maximilian as its guests. The visit to the castle and its garden allows you to admire the piano played by Franz Liszt, the Palladio stairs, the panorama over Trieste gulf, the Bunker built by the German Kriegsmarine. Miramare is the famous residence of the Augsburg family, built by Maximilian in the 19th century: enjoy its unforgettable panorama. In the afternoon Trieste is on your schedule: this Mitteleuropean city will simply amaze you.
DAY 4
Today the protagonist of your visit is Maniago, where you can visit an important Palace, Palazzo Attimis. This Palace, recently renovated, is a huge building formed by 3 different areas, an Italian garden and a 7 hectares park.  Dinner at a local restaurant and in the afternoon visit to the local knives Museum, that aims at enhancing an important symbol of the local community,  the knives production, by presenting traditional as well as modern production techniques. Dinner and overnight.
DAY 5
The morning will  of your last journey through Friulian castles includes Spilimbergo, awarded as an "Italian jewel" in 2012, and presenting important architectonical pearls, such as the Castle and the Cathedral, one of the most important Friulian Gothich buildings. Furthermore, Spilimbergo is renowned as the mosaic capital: here you will visit one of the most important mosaic schools in the whole world. Lunch at a local restaurant and in the afternoon visit to Castelcosa, a noble residence that will amaze you thanks to its colorful frescoes and its cellar, a real paradise for wine lovers.
INFO&BOOKINGS:
Consorzio Pordenone Turismo
Piazzale dei Mutilati 4
33170 Pordenone
Tel. +39 0434 549427/422
Fax +39 0434 541865
Organizzazione tecnica Delizia Viaggi
Prenota il tuo soggiorno
Clicca su Prenota per inviare una mail e prenotare il tuo soggiorno.
Plan your trip
Sign in and access your personal area: "My Pordenone With Love".
You will be able to organise all activities in a convenient calendar, locate on a map the places you wish to visit, save itineraries and events, and have the full program of your holiday at your fingertips.
You'll also receive a newsletter with all the news from our Province.
Login
Sign in